I can't believe that I've been doing this blog for a while (and by a while I mean a week or two, with as far as I know, no readers) and I've yet to write up a Mae West movie. Shame on me.
Mae West's movie are essentially male harem movies, there's minimal plot and it basically involves Mae West cavorting around with several different men. But that's not really a knock to the movie, because Mae West may be one of the greatest entertainers ever, despite not being a very good actress or singer. She just embodied this character of a wise-cracking, seen-it-all, man eater, as well as writing a great deal of her films and stage plays. The actual plot of
She Done Him Wrong
revolves around Lady Lou (Mae West) who is a nightclub entertainer who used to date a dangerous criminal who is now in prison. She promised to remain faithful to him, and being Mae West, she didn't. So he's out to get her. In addition to this, she has to deal with shady goings on in her night club as well as the local missionary Captain Cummings (Cary Grant).
The great thing about this film is that it knows what it is, it's a breezy, fun f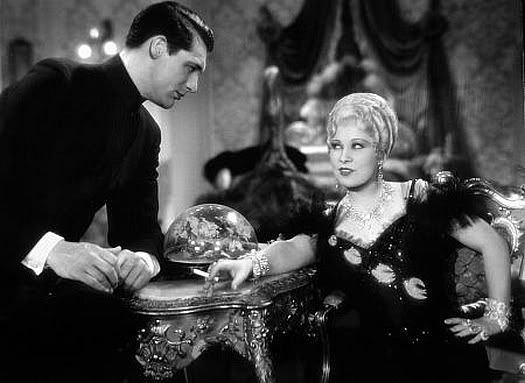 ilm about Mae West using man after man, and it doesn't wear out it's welcome, since it's only around 66 minutes (the shortest film ever nominated for Best Picture). It's filled with Mae West's double entendres and sexual suggestion. The plot is a bit ridiculous, involving the already mention vengeful lover as well as some sort of white slavery ring, but it doesn't bog itself down in such details, instead focusing on Mae West walking around and being fabulous.
I know I haven't said much in terms of substance about the film, probably because the film itself is light on substance, which is probably why its such a fun movie, one that should definitely be checked out. And even if you don't like it, it's only 66 minutes.