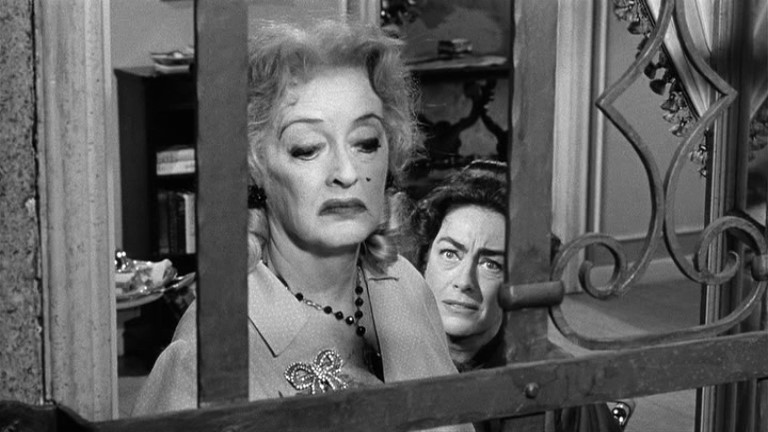 Bette Davis and Joan Crawford are brought together for what should be considered the Holy Grail for fans of Classic Hollywood Catfights and B*tchery.
Bette Davis plays Baby Jane Hudson, a former child star who quickly lost her luster as she grew older. Unfortunately for her, her sister Blanche (Joan Crawford)'s career took off and she became a movie star. Unfortunately for Blanche, booze and jealousy combined in a car accident that left her in a wheelchair, leaving her in the care of her sister who begins to grow more and more unstable.
Let me get this out of the way and say that both leads are fantastic, but this really is Bette Davis' show. Blanche has to be the sympathetic character, so she remains much more one note than Jane, who gets to go from bitter alcoholic to going through a twisted second childhood. Davis hits all of the emotional beats perfectly in a role that could have easily been played to scenery-chewing camp, but Bette Davis gives Jane a sort of internal turmoil and humanity that could have otherwise been lacking.
In fact, the whole movie somewhat tricks you, it starts out as you would expect, with Jane mocking and abusing Blanche in a sort of dark-comedy, but it slowly fades away as Jane begins becoming more and more unstable and what we're left with is two wounded individuals who have hurt each other and have made some horrible mistakes.
The film is primarily about the two leads, with only two prominent secondary characters. Elvira (
Maidie Norman), the housekeeper who is Blanche's only ally in the house, and Edwin (Victor Buono), the pianist Jane hires to accompany her when she begins planning to resurrect her act. Buono actually received an Oscar nomination, but to be honest, I'm baffled by it. It's not that he does a horrible job, but his character is basically just a slimeball loser who lives with his mother.
This is a film that deserved to be seen. It's a very dark little movie, but you have two of classic cinema's biggest titans (who hated eachother) together in one film and delivering great performances. There's not really a whole lot to hate.